Page 2 sur 2 •

1, 2

The Bugnini Verdict: Guilty or Not Guilty?

Before attempting anything resembling a summation of the "Archbishop" Annibale Bugnini case, the evidence must be reviewed. First, stock must be taken of the known aims of the Masons and their allies, as well as the extent to which they fulfilled them. Likewise, Bugnini is entitled to his day in court.

The documentation regarding Masonic goals can be outlined as follows:

• Destruction of the Roman Catholic Church through its infiltration, involving plants who would feign orthodoxy, while promoting revolutionary ideas.

• Corruption of other clergy and the laity.

• Denunciation of truly orthodox clergy (and other faithful Catholics).

• Development of a faction (or bloc) of sympathetic clergy to sway opinion to the

"progressive"

side.

• Infiltration to reach even unto the Holy See.

• Engagement of said bloc to redirect Catholic teachings and sacraments into

"new"

directions at an

"ecumenical"

council.

What about the realization of those goals? Consider these findings:

• Proof of such internal subversion is manifest; so much so that, over 200 years ago, a pope could explicitly note it in an encyclical, and more than a century-and-a-half ago, evidence was in the hands of the Holy See demonstrating massive infiltration.

• More than a century ago, a papal Secretary of State noted a widespread doctrinal perversion of young clergy, in line with the teachings of the Lodge.

•

"Catholic"

attacks on Popes and others who promoted orthodoxy.

• Increasing sympathy for

"loyal"

dissenters.

• Infiltration reaching even unto the Holy See.

• An

"ecumenical"

council, in which traditional teachings and sacraments were surgically removed, and replaced with

"progressive"

ones, a move openly applauded by the enemies of the Church.

When the evidence is dispassionately examined, it becomes now clear that there is a close correlation between the sustained infiltration and the Vatican II coup d'etat. It is also obvious that radical alteration of the liturgy was regarded as key to institutionalizing the revolution. This conspiracy that today poses as the Church, the most insidious campaign ever mounted by the forces of hell against the Spotless Bride of Christ, is exposed as un-Catholic (non-Catholic) by the destruction it has wrought. "By their fruits you shall know them," declared the Lord.

88

TBC...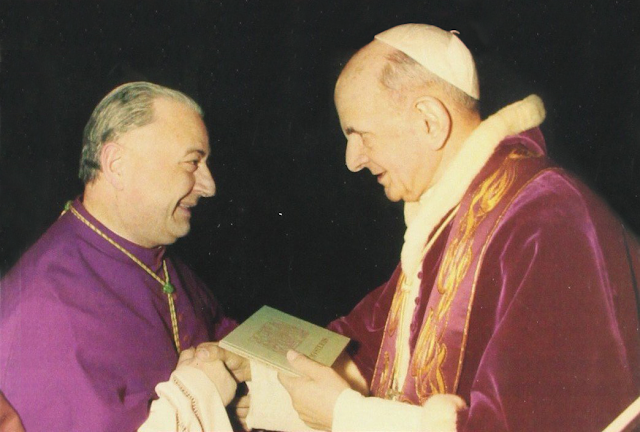 Javier




Nombre de messages

: 2509


Localisation

: Ilici Augusta (Hispania)


Date d'inscription :

26/02/2009



Was Bugnini oblivious to all that was going on around him? He lived for more than a decade after the promulgation of the new

"Mass,"

— his handiwork — and saw both the just criticism it drew, and the ruin it wrought. Yet never for a moment did he acknowledge that the Novus Ordo Missae might be to blame for the harm caused to the Church. The theme of his 900+ page memoirs is hammered home time and again — the

"reform"

is perfectly

"valid,"

and any reasons for subsequent weakening of the faith, while

"many and complex,"

are completely unrelated to the new

"Mass."

In truth, however, almost all of the principal elements of the Conciliar service have been shown to be both proscribed by Pope Pius XII and in keeping with Masonic errors about human nature.

Bugnini's defense is likewise suspect when viewed from the practical order. Anyone who makes an objective study of the modern crisis of faith that has developed in the Church, can trace it first to the Vatican 2 Council, and, then, to the promulgation of the new "Mass." And the progress of this crisis can be seen to accelerate dramatically after the Novus Ordo Missae was imposed throughout the body of the Church. The desecrating of the churches (trashing of altars, chalices, statues, and other sacred accouterments), the trivializing of worship, confession reduced to a counseling session, more empty pews, the decline of vocations (both priestly and religious), the promotion of a false "social gospel," the open opposition by "Catholics" of essential moral and dogmatic teachings, the falling off of conversions, the rash of pedophile clergy, etc. are the fruits of conciliar "reforms," including this "valid" revision.

Unfortunately for the

"reformers,"

some Catholics did not take kindly to the changes. Poor Bugnini caught the brunt of this displeasure. He reports as follows:

"W]hile attending a meeting of traditionalists in Rome, a woman recognized the secretary of the Consilium [i.e., Bugnini, here using third person as he was wont to do], was filled with a holy anger, and attacked him in St. Peters Square with scorching words and spat in his face. He received many letters, more or less anonymous, that were filled with unquotable insults and, in one case, even threatened him with death."

89

While the common reaction is to recoil at the idea of someone spitting in another's face, the more important question is: Given the circumstances, was she justified — if not in her act, at least in the sentiment behind it? Even a pontiff so mild in nature as Saint Pius X had instructed that the proper greeting of Catholics to Modernists was to beat them with fists. Should an ecclesiastic who subverts his post in line with Masonic goals fare any better?


TBC...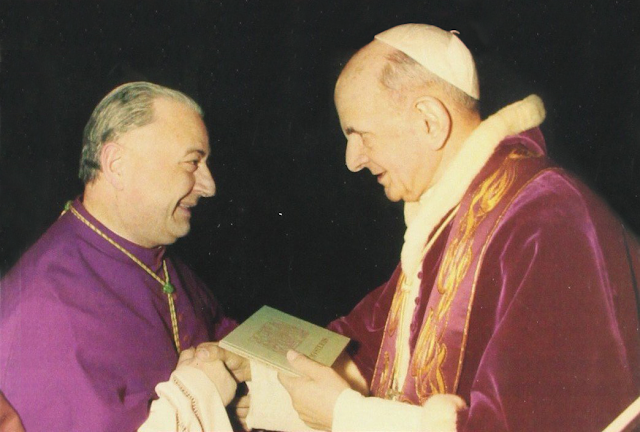 Javier




Nombre de messages

: 2509


Localisation

: Ilici Augusta (Hispania)


Date d'inscription :

26/02/2009



And yet Bugnini never admitted to any connection with the Lodge; in fact, he strenuously denied it. He records in his memoirs the following passage from a letter written on October 22, 1975 to Paul VI:

'I have never had any interest in Freemasonry; I do not know what it is, what it does, or what its purposes are. I have lived as a religious for fifty years, as a priest for forty; for twenty—six my life has been limited to school, home, and office, and for eleven to my home and office alone. I was born poor and live as a poor man....'

90

To paraphrase Shakespeare:

The prelate doest protest too much methinks!

While his refutation may appear reasonable at first glance, its underlying weakness is revealed on closer examination. For how can a man who was ordained in 1936 claim total ignorance of a group that the Church had for nearly two centuries repeatedly condemned as being the principal instrument of Satan in modern times, and that has as its final goal, in the words of Leo III,

"to ruin the Holy Church, so as to succeed, if it is possible, in the complete dispossession of Christian nations of all the gifts they owe to Our Saviour Jesus Christ"?

91

But it is the very duty of a priest to know the enemies that seek to devour his flock the better to protect it. Hence, even were he not lying, Bugnini would still — by is own admission — be guilty of culpable ignorance and willful negligence. In his haste to distance himself from the rumor, he has given all the more reason to doubt him.

In January 1980, he again attempted a defense of himself, in a letter to the editor of Homiletic & Pastoral Review. This time he actually went on the offense. Bugnini talks about how

"in 1976 polemics on freemasonry spread in the ecclesiastical circles, and at first 2, then 17 and then 114 names were paraded around,"

accuses

Si, Si, No, No

of

"calumny and defamation"

(though he dismisses talk of a lawsuit as

"to give too much importance to people who behave in a shameless way"

), and declares

"not one of the prelates pointed out by them has ever had anything to do with freemasonry."

92

Here, again, his apologetic leaves much to be desired. His recalling of the different numbers of Masons that were

"paraded round"

is very reminiscent of the treatment Senator Joseph McCarthy received from leftist critics of his efforts to expose Communists in the United States Government in the 1950s. The tactic is similar: By ridiculing the discrepancies in counting, the very premise of infiltration is also ridiculed. Given two hundred years of internal subversion that had continued to quietly spread, without much opposition, like a cancer in the Church, are even 114 Masonic prelates all that incredible?

93

In any case, even if the higher number is too great, it still does not make the basic premise flawed, since Masonic infiltration is a historical fact beyond debate. Interesting, as well, is his countercharge of

"calumny and defamation."

Was Bugnini's stated reason for not pursuing a libel suit legitimate, or was there the ulterior motive of putting the potentially explosive controversy behind him?

TBC...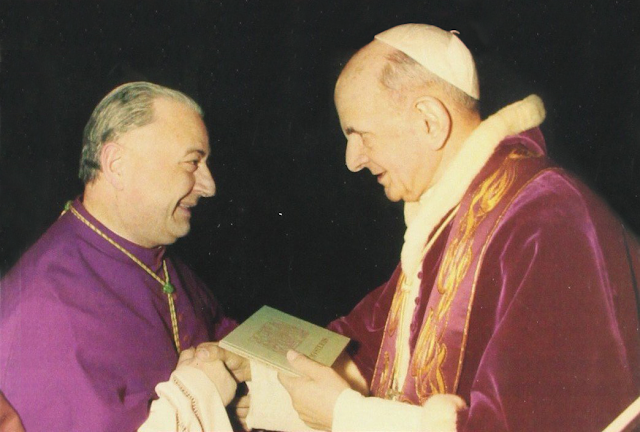 Javier




Nombre de messages

: 2509


Localisation

: Ilici Augusta (Hispania)


Date d'inscription :

26/02/2009



Page 2 sur 2 •

1, 2

---
Permission de ce forum:
Vous
ne pouvez pas
répondre aux sujets dans ce forum